Current


On this page we present what is going on, relevant meetings and reports from Handen- länkarna!






---



P o i n t m e e t i n g s

Point Meetings over the next four weeks:

Wednesday, May 1 Closed!

Wednesday, May 8 at 7 pm!

Wednesday, May 15 at 7 pm!

Wednesday, May 22 at 7 pm!

---
Handenlänkarna join Rikslänkarna!
At the end of May, the Board of Directors of the Sällskapen Länkarnas Riksförbund (Society of Linkers National Association) adopted the Association of Members of Handenlänkarna, and after the term of roules of the National Association for the newly incorporated local organization in six months, we will be a full member.
After the decision at the convened member meeting on May 2 was decided that we in the Handenlänkarna would join the Rikslänkarna (National Links), our society signatories wrote to the board, ie shairman Gunnar and Treasurer Björn on an application for admission on May 23.
In the district we are affiliated with, there is only one organization that has not yet decided whether to apply for membership in the Rikslänkarna.
We maintain our Central Sweden district when we connect to the National Links without any organizational changes except a name change to fit our new organization.
Handenlänkarna will not see their decision to join the Rikslänkarna as if the friendship in any way changes the view that we are Linkmates, whether we are affiliated with a national federation or not. We see ourselves as länkmates fighting for our own sobriety and for that those who want to but fail to keep their sobriety are the most important thing in our daily work.

---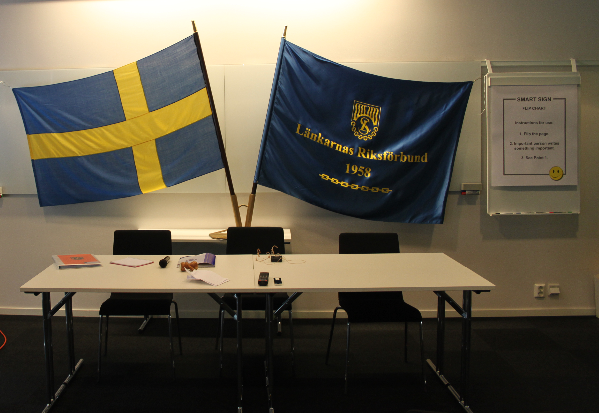 Photo Ingemar Rosén
Riksförbundets Congress May 11

Nationwide meeting May 10 and May 12
Sällskapen Länkarnas Riksförbund (Society of Linkers National Association) will have our Congress on May 11 and Riksträff (nationwide meeting) on the afternoon of the 10th and during the morning of the 12th of May.
We will update the information here on the website as the schedule is ready but we can already now start to think about the three members that we choose to our delegates.

Motions
On 11 January, the motions shall be Förbundsexpeditionen provided.
Both Handenlänkarna and we as individual members can author and submit motions. We cant mail in a any motions. We may send these motions to Sällskapen Länkarnas Riksförbund, Blomgatan 28, 169 60 Solna.


---
Report from Annual Meeting
The Board was full and grateful discharge for 2017 and the Board were re-elected (Björn, Erik, Gunnar and Stickan).
During 2016 Handenlänkarna made a great effort, both human and financial to the external operations.
Our method not to return to drinking is unique and suits some better than the conventional methods.
The public sector must not forget that for every sober Länk companion saving on a yearly basis the public sector an amount between 1 and 2.5 million skr.

Report from the Board
If you have any suggestions or any questions, please contact the board. You'ĺl send your e-mail via the link on the left.

---
Home Page
To make the page as well as possible, we must have your views on its contents. What are you missing? What could be better?
Do not hesitate to tell us! You can do this easily by emailing the web editor at the e-mail link below.